Our 2018 Events

Bookmark this page and check back often!
Explore the museum between events. The buildings are closed except by appointment, and on Tuesday volunteer work days. The grounds are open daylight hours, but be aware that hunting season requires caution and orange clothing. To make an appointment, call 207-974-6278 or email [email protected]
---
Past Events….
November 11. It wasn't quite winter yet, but the dogs were ready to race! Click here for more info.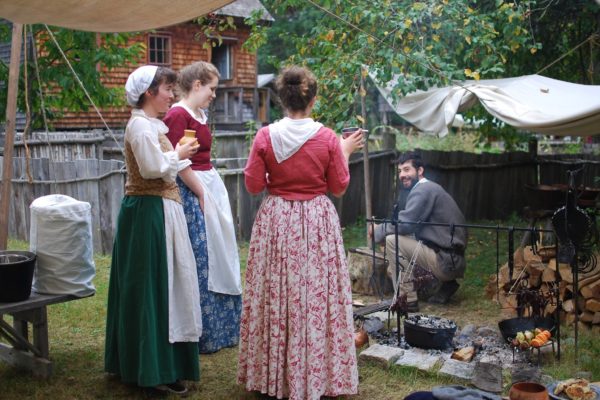 October 6 & 7 – Our most popular event of the season!  Reenactors showcased livestock, historic demonstrations. There was a lot of fresh pressed cider, bean hole beans & biscuits, and soup. Lombard and sawmills were running!
Check out photos and videos of the event.
May 23-25 – Children's Days 9 AM – 1 PM  Historical hands-on activities and demonstrations, wagon rides, and fish swimming upstream! Reservations required $5 per person
May 26 – Alewife Day 10 AM – 1 PM  See the alewives swim upstream! Smoked fish, kid's games, mills running, Machinery Hall open $3 per person ages 12+
June 16 – On the Run!  Blackman Stream Alewife Cross Country Run 8:30 See website for race details
June 16 – Lombard Log Hauler, Sawmills & More on the run! 10 AM – 4 PM  $10 adults/$5 children under 12

Saturday, July 7–Engineering History at the Mill – Exploring our Water-Powered Sash Sawmill 1-3pm In 1850 Maine had 2,000 water- powered mills providing clean renewable energy. There were 6 mills on Blackman Stream. This Saturday we will run and take a closer look at our water-powered sawmill to learn how it works. We will learn how to calculate the horsepower from the overshot waterwheel. We will explore the mechanical details of the sawmill, including a wooden gear train that increases the saw speed, a ratcheting automatic feed system, and a water-powered friction winch that returns the saw carriage. This is one of the last water-powered sash sawmills with wooden gears left in the country. Presenter: Herb Crosby, Professor Emeritus Mechanical Engineering Technology. Free for members, $5 for others.
Saturday, July 21–11:00 – 12:30. Photo Walk at the Maine Forest & Logging Museum.
Marty Konopacki, retired commercial photographer, is living at MFLM this summer with his wife Mary, volunteering as RV Workampers. He's been enjoying the beauty of the property and wants to share his expertise with others who enjoy recording special places with their camera. Bring your camera, tripod and photo gear for a 90-minute, interactive discussion in photographic artistry, composition and tech talk at the scenic MFLM. Check out Marty's website http://www.mkphoto.net. Meet at the gift shop at 11:00. Free for members, $5 for others.
Saturday, July 28 – Heavy Metal 10 AM – 4 PM   Heavy machinery and blacksmithing exhibits for the whole family! Try your hand at forging with a blacksmith. Bean hole beans, biscuits, sawmills, and the Steam Lombard Running! "From Away Downeast" will be entertaining with logging camp songs. $10 adults/$5 children under 12. Learn More.