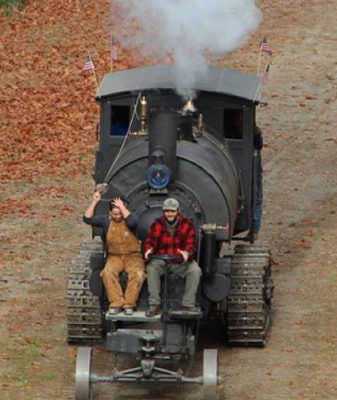 The Maine woods have been a source of economic growth for centuries. The Maine Forest and Logging Museum seeks to share a taste of what it might have been like in one of the early sawmill communities that were once so common in our state. Demonstrations with tools, machinery and mills are an exciting part of events that bring visitors of all ages to our museum.
As we approach our 60th anniversary, we are excited to see long-term projects, such as the visitor's center, nearing completion. Some long anticipated projects are now underway–we have been anxious to complete a structure over the Donnell rotary clapboard mill. Volunteers take care of all the maintenance on the structures, restore some really interesting machinery and enjoy demonstrating. So many people share their time and expertise to make things happen at the museum!
The October 2017 wind storm created a lot of work for volunteers–the gate house and trapper's cabin were destroyed and the upper parking lot now is full of logs to be sawn. The woods behind the main campus are full of blow downs–some beautiful pine is laying on the ground. Although volunteers do amazing things with their own chainsaws and pick-ups, some work takes large equipment that involves expenditure. We have many in-kind donations, but various projects and running the office require income. Events do not completely support the operation of the museum.
It will take funding to reach our goal of sharing more artifacts through refurbishing the pole barn into a woodworking shop, through creating more housing for various bandsaws in the mill yard, and for replacing the gatehouse with a more functional entry way for the museum, etc. We have some really great things in storage! It is time to make a push to get things out where the public has access, to invite more volunteers to share in the process of learning about operating our equipment and to be open for visitors on a much more frequent basis.
The Maine Forest and Logging Museum is the perfect place to showcase the long history of Yankee ingenuity and the ways Mainers harvested and used forest products to create everything from boards to shingles to clapboards. Baskets, barrels, turnings. We have so many things to share! We need financial help to get display space ready. The bicentennial of the State of Maine in 2020 will be a great year for the museum to celebrate our 60th anniversary–the growth of Maine was substantially related to the use of the timber resources. Help us with financial support to get the museum in great shape to celebrate!