Welcome to the
Maine Forest and Logging Museum
Our site is undergoing renovation.
Please pardon our appearance.
We are an event-based outdoor living history museum.
We preserve, demonstrate and recreate our state's rich forestry and logging history.
To see what we're about, come to one of our events.
Between events, the Museum is a lovely place to walk around.
Our Annual Appeal has started! Please check out the donation opportunity page to help support us in the coming year!
Thanks to Maine Community Foundation for supporting the Museum by awarding a Community Building 2022 Grant!
Our Hours
The grounds are open daily during daylight hours. Tuesdays are volunteer work days. Volunteers are on the grounds from around 9am to 1pm, and will answer questions and open buildings if asked.
Our 2023 Events
Next Event….
Alewife Day
Saturday, May 20, 10am to 3pm
Come see the alewives (river herring) return from the ocean to Chemo Pond. Biologists on hand to answer questions. Gas Lombards and mills running. The Blacksmith will be in.
$10 adults, $5 kids, members free
Children's Days
May 25 & 26 and June 1 & 2
9am to 1pm $8 each
Fun outing just for kids. Interactive demonstrations and activities: Blacksmith, sawmills, horse-drawn wagon rides. Registration required.
Summer at Leonard's Mills
Saturday, June 17, 10am to 3pm
Blacksmiths, steam and gas Lombards running! Bean-hole beans and reflector oven biscuits!
$10 adults, $5 kids, members free
Heavy Metal
Saturday, July 29, 10am to 3pm
Steam and gas Lombards running! Machinery demos! Mills running! Blacksmithing–try your hand at it! Beans and biscuits!
$10 adults, $5 kids, members free
Living History Days
October 7 & 8, 10am to 3pm each day
Our biggest event of the year! Re-enactors! Horse-drawn wagon rides! Steam and gas Lombards running! Cider pressing! Mills running! Woodworking demos! Blacksmiths! Beans and biscuits!
$15 adults, $5 kids, members free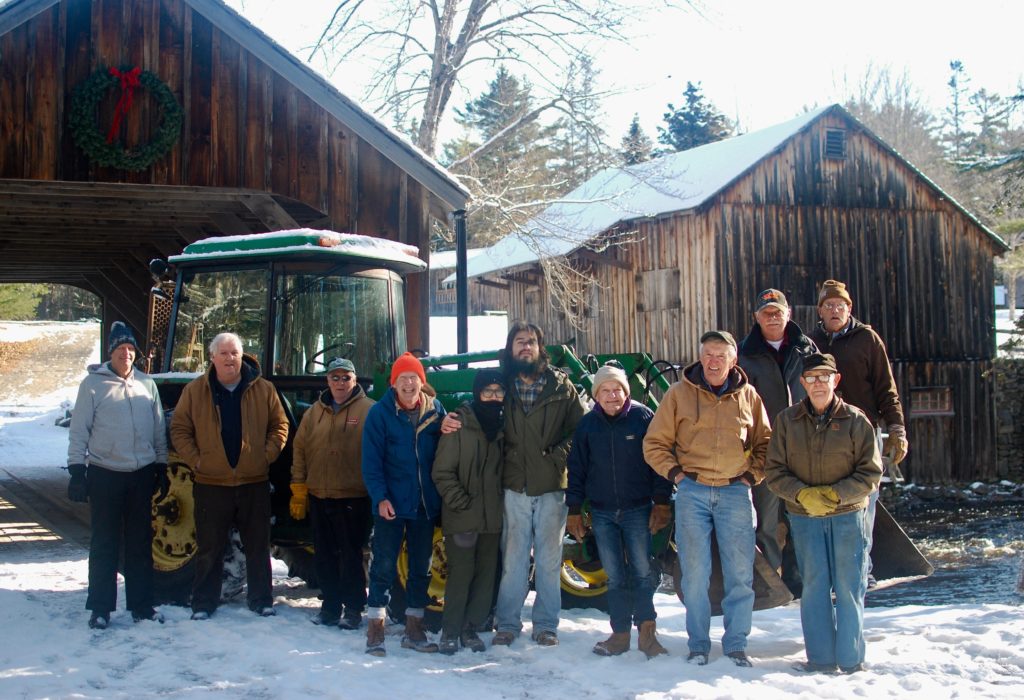 Tuesday Crew volunteers with our new tractor. Thanks for the tractor, Nolette-Belanger Family Foundation!
Volunteers Needed!
Come join the crew! We need volunteers to make our events special and to help keep us looking good! Please see our volunteer page for more info.
Member